"Truly happy memories always live on, shining. Over time, one by one, they come back to life."
– Banana Yoshimoto
In loving memory of those who are forever in our hearts today and always.
Julie Shepherd
Live, Love, Laugh and Forgive
Kevin Irby
On July 31, 2018, heaven gained a loving father, brother, uncle and son. Kevin Irby's love of his boys, his connection with animals and his sense of humor are all still alive in the stories we share as well as in the many donor recipients he was able to help. He is and always will be our super hero! – shortened "Kevin's love of his boys, his connection with animals and his sense of humor are all still alive in the stories we share as well as in the many recipients he was able to help. He will always be our super hero!"
Rachel Lucy Givens
Rachel Lucy Givens will and always be in our family's hearts. Her family and friends miss her tremendously. She's a champion in her human and spirit life.
Paul Dade
Paul was someone who just wanted happiness, fairness, and truth from those around him. His smile, affection, and presence is greatly missed by those that knew him well.
Dugan Flanders
Dugan was adventurous, mischievous, fun. He was a magnet, always drawing people to him with his sparkling eyes and kind smile.
Melissa Swodeck
Kind hearted soul taken to soon. RIP Melissa 11-26-19.
Chad Anderson
Chad was the most loyal and loving father of two, husband, and friend to so many. He loved playing with his kids, random facts, tall buildings, cars, and talking with people. We love and miss him always and forever.
Robert Beissner
My dad went unexpectedly July 18, 2019. We miss him terribly and I know he will continue to watch over his family from Heaven. Love you Dad ♥️
Kittie Ranson
Kittie, There were no farewell words spoken, You were gone before I knew it, No time to say goodbye, And only God can tell me why. I cherish the memories of the good times we had. I honor you for the service you provided to others in their time of need. I know that you are finally at peace. I celebrate this momentous day where God chose you to walk beside him. I know God loves you as much as I do. Peace be with you.
Dale Lamar Mills
An aspiring musician who dreamed of his "ultimate mic drop"- he was not going to allow others to determine who he was or what he stood for. Who knew his ultimate performance would be 7 organs to 5 recipients. On those days I am missing him the most, is when I hear from one of those recipients, my son's ripples of love once again caressing my broken heart. Always my hero, Bubba 💔
Gregg Sutton
Gregg never met a stranger. He was a musician and said that music was the international language. No matter who he met, he could find that common ground in the type of music they enjoyed.
Larry Daulton
He gave the gift of sight so another my servant the beautiful world we live in
Branden Runions
That's my son Branden, who is missed by everyone who knew him, and that was alot of people. But no one misses him more then his family. Branden had a huge personality and a heart of gold. He was always making people smile and although he had his own struggles, he was always there to help someone if they asked. Even in his death he was giving. I am proud of my son and proud to be his mother. We can not see him physically any more, but we know he is always near. Never forgotten, forever in our hearts. Love and miss you ❤️
Michael Grinnell
"My Father showed me what it was like to be loved unconditionally, to follow my dreams, and to stay true to myself and my beliefs. He was a real life superhero and my life will forever be changed.
"If doing the next right thing was easy, everyone would do it" – Michael"
Tom Pfeifle
Tom was outgoing, inclusive, strong, adventurous, smart and loving. We hope someone sees what he saw in this beautiful world we live in.
Cynthia Trotchie
Cindy loved her family so much, she always gave everything she had in life to care for others around her. She continued to give after her passing. The world was a better place with her around. Your family misses you tremendously.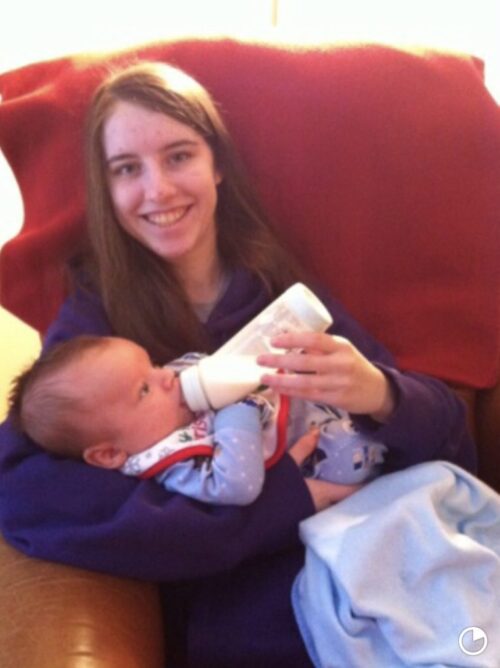 Taylor Cox
Taylor is pictured with her first nephew! She loved being an auntie, a sister, daughter, and had a thirst for adventure that lives on through her family today. She is so missed, but she is a hero for her donation of 8 organs.
Taylor Goehring
Taylor lived life to the fullest. She was beautiful inside and out. Her donation saved three lives. Love you my sweet angel.
Rhett Nyberg
Just 15 days old but left an everlasting impression on everyone he met! So loved, so missed!
Joseph Galinat
Always loved, never forgotten!
Garrett Carson Mulholand
Jeffrey Pickard
My dad was a hard worker and the most caring person I ever knew. He loved helping people whenever he could. He loved music, nature, working on cars and had the funniest sense of humor. He was my best friend and I thank God every day for the time I had with him.
Kevin C. Johnson
Kevin was and is the love of my life. He had the most loving, caring, generous, selfless spirit of any man. He truly wanted everyone to love each other and make each moment memorable. He suffered greatly serving as a Army Ranger and the wounds were invisible to most. At the same time, he believed you could reach for the stars and embrace these scars as they built beautiful character within. Kevin's ultimate goal, and what he defined as a legacy, was to leave an imprint of love. Showing what having a heart of Jesus can do through us having faith and trusting him and how it wiill heal you. He lived a life of wanting to give life in every way and was an honor to fulfill this through organ donation. He is missed every second of every day, and I am so incredibly proud to be his wife and to carry on our mission to help other disabled American veterans and their families in our local community.
Amberly Masonholder
Amberly, our sweet, beautiful daughter. I never could've imagined life without you in it; you left us so suddenly. We know how hard you worked to help your friends in their struggles; we honor you now for helping others with another chance of life. Your Dad and I miss you deeply and know you are at peace; but walking with God was our truest wish for you. You are loved and never forgotten.
Tanjee Goodrich
Your life was a blessing, you are loved beyond words, missed beyond measure.
Landon Craig Haight
"Landon Craig Foley Haight, forever in our hearts and souls
8.9.12-4.23.16″
Bryan Romane
Aug. 31, 1993 – March 23, 2019
It's hard to define a life in just one picture. Bryan had a soft spot for his daughter and family. He was always the center of attention and life of the party. Wild child to the end. Miss you like crazy baby boy.
Da'mon Mitchell Higbee
Our Mr. Amazing! He was kind,generous and smart! The best big brother in the world. His contagious smile and positive personality will be forever in our hearts.
Corbett Griffin Lee
Griffin was the kindest, funniest and smartest kid I know. He was a beautiful 10-year-old boy. Griffin will live on through our donation gift. He was loved dearly.
Jim Croff
James "Jim" Croff passed away on Aug. 31, 2019. He fought a long hard fight with courage and humor, always. His love of family and friends kept him fighting hard. He taught us all to be strong. He will be loved and missed forever.
Jacob Ash
Jacob was my everything and my forever HERO. Search #JustForJake on Facebook to see all the acts of kindness in his name.
Chad Hultgren
Chad was unflinchingly honest and ferociously kind. He made the world better.
Claire Whitten Raphael
Amanda Maciel (Hillious )
This isn't an honor that you wish for a loved one to receive, especially so early in life. However, I know my sister's beautiful spirit lives on in the lives she helped make better or even saved. We all love you Amanda.
Patricia Gendrow
Patricia better known as Patti, was a warm-hearted woman who loved her kids Mike and Chelsie, baking, country music and gardening. Known for always knowing how to cheer you up and never letting anyone leave her house without freshly-baked treats. Known best for having the warmest heart, no matter if you knew her for one day or twenty years, she always made you feel as if you were longtime friends.
Cassandra Harris
Cassandra was a vivacious daughter, sister, auntie and her most loved title of momma. She is extremely loved and missed. Out of her tragic death sprang a second chance of life for five others through her choice of organ donation. Her light will always shine on.
Rodney Jay McClish
Rodney was a very proud veteran. He served on the USS MISSOURI after it was recommissioned in the 1980s. Loving Husband, Father and Grandfather. Gone but not forgotten.
John David Elmore
John David Elmore was such a good man. He loved his family so much. He had such a big heart and laugh. He loved all five of his children. We all miss him so much.
Lindsey Webb
To my Daughter Lindsey: Beautiful, funny, always giving and now you gave all. I am proud to be your mother.
Caroline Tickett
Caroline was the most loving and caring mother of eight, and a friend to so many. She loved baking, fishing, gardening and was always willing to help and teach anyone willing to learn. She spent her life giving and giving. Never forgotten, forever in our hearts. We love and miss you!
Chad Hunter Truscott
Chad gave so much of his time and love to friends, but never asked for help from them. In his passing, he gave the gift of sight and knowledge of the human body to strangers.
Ryan Reeves
Ryan Reeves was a father of two beautiful young ladies. Riley & Rowie Reeves were Ryan's world. He was such a good dad, friend, partner and is missed by all. Ryan loved to give to this world, so it was no surprise when he opted to be an organ donor. He saved two lives and gave sight to one. The family of Ryan Reeves is forever grateful for LifeCenter Northwest for helping with this process of honoring our loved one and giving life.
Nicholas Dennis
Tyler Liebhart
Tyler is missed everyday. He was a kind soul who had many talents. He would be so proud to know he was able to save 3 lives. He is our hero.
Autumn Aliperto-Long
Autumn was the most selfless person and she will never be forgotten!
Eric Michael Lisenbey
My sweet Son, Eric, You always had the biggest Heart and always helping others. Giving when you didn't have much to give. You made me so Proud! You are my Hero! Forever Loved and Forever Missed! Love, Mom